Responsive Web Design in Surrey BC
We create Responsive Web Design that resizes depending on the type of device it is being seen on. This ensures perfect fit across devices. Whether it is an oversized desktop computer monitor, a laptop, a 10-inch tablet, a 7-inch tablet, or a 4-inch Smartphone screen Responsive Web Design ensure a perfect fit every time.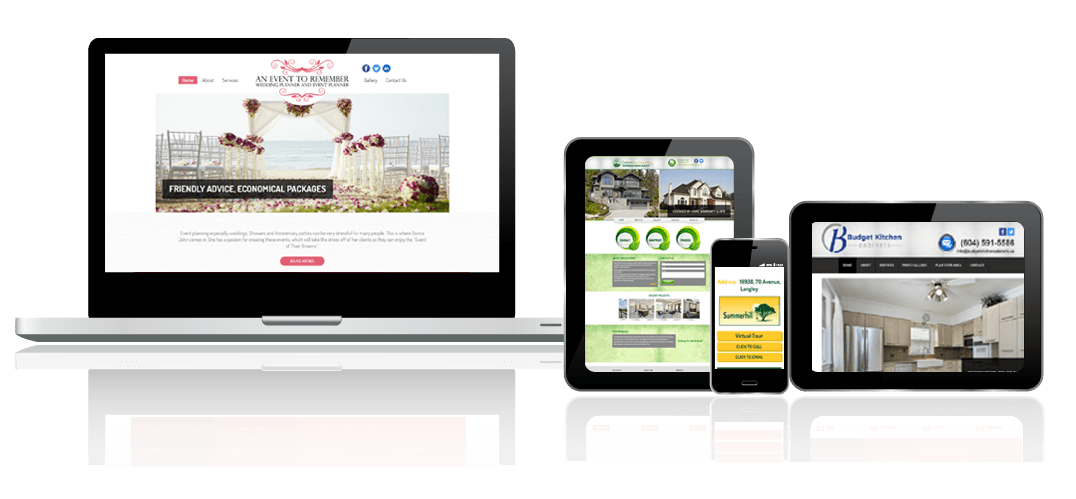 Increase your reach to tablet and mobile audiences with Responsive Web Design
Responsive Web Design to increase sales and conversion rates
Consolidate your analytics and reporting for best Responsive Web Design
What is a Responsive Web Design?
The proliferation of mobile web devices has necessitated an adaptive approach to web design. A responsive web design approach has allowed us to build websites that work across multiple devices. The key here is to balance the design elements of the website with the functional features. One should not come at the cost of the other.
Responsive Web Design means being adaptable. There is a Proliferation of multiple electronic devices. These have different screen sizes and resolutions. This has necessitated the need to make new designs. Those which can adapt and adjust without losing readability or image resolution.
Responsive Web Design is the core competency of Etios Solutions.
Why should my website be responsive?

Reach tablet and mobile audiences
Responsive Web Design removes the need to implement different design for mobile specific requirements. Responsive means only one website will be capable of working across devices including mobile.
Increase sales and conversion
Responsive Web Design enables customers to have a uniform and consistent experience across devices. This comfort results in users spending more time on your website. This ultimately results in better sale and more loyalty.
Consolidate analytics & reporting
A single Responsive Web Design means more comprehensive reporting. This is easier to interpret. This enables clients to implement strategies across multiple electronic devices. It becomes easier for decision makers to adapt their approach. This can be done in timely manner for optimum results.
More visibility in search engines
Having a single Responsive Web Design means have a uniform and unified strategy across devices. This influences marketing and branding approach. This also results in faster and more fluid response to competition. You can Attack competition on multiple flanks. This means improvement in SEO rank much faster.
Easy to maintain
Frequent changes are required to be done in content and presentation to make website relevant. But the need to update multiple websites is both time consuming and inefficient. In today's competitive landscape this approach cannot be adopted. The risks associated with credibility of the company can never be over estimated. The only way forward is adopting Responsive Web Design.