Web Design planning for Small Business Web Design in Surrey BC
Before actual development we brainstorm with clients to have a unified vision of the project. This phase is called Web Design Planning
Some questions before Web Design Planning begins:
What are the objectives of the website?
What needs to be achieved?
What is the targeted group of customers: their age, interests, geographical location, ethnicity?
What emotions and expectations you have from Web Design Planning Process to evoke?
How are you going to express the vision of the business?
Web Design Planning Process
Drilling down further to understand the core of client's process we evaluate the underlying objectives of website designing:
What do we want to achieve through our website?
Who exactly is this website for?
Who's our target audience?
How do we best communicate with that audience?
What information needs to be included?
How that information should be structured
We help you formulate answers to the questions above and make customer centric strategies to ensure that your website becomes your "Best Salesperson."
Web Design Planning Process Steps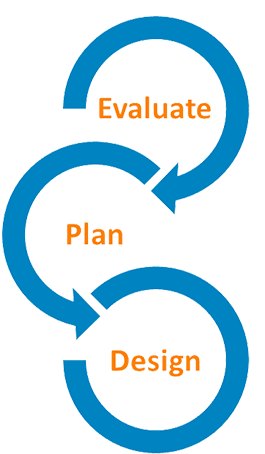 1. Evaluate
We begin each Web Design Planning process with evaluation phase. Our team evaluates your strengths and helps you to take advantage of the market opportunities. We take time to get to know you, your brand and your product or service thoroughly. We discuss your business strategy to ensure that we understand your target market and goals.
2. Plan
This is the part where we along with clients decide on features, functionalities and branding methodologies to be adopted for competitive advantage. This involves inter and intra departmental collaboration for ensuring optimum results.
Website templates are created, to lay-out interface elements. A sitemap and feature specifications are written. Client receives a detailed blueprint with all the features and functionalities at the conclusion of the planning phase regarding project milestones and execution.
3. Design
We analyze your competition and find out what makes your business unique in your industry. Then we create a plan of action that will serve as a guide throughout the creative process. Our creative team develops the design concept. We then present the concept to you so that you have the opportunity to offer additional insights. For instance how you would like the artwork to communicate with your target audience. Each step of the design process is analysed to ensure that the goals established during the Web Design Planning phase are being met.